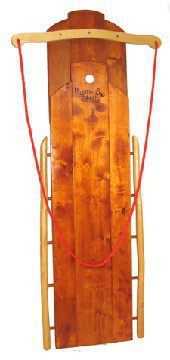 One of the really cool things about our new house is that we are just down the street from "the sledding hill". When we were moving here we would describe where we were moving to and a lot of people would suddenly say "That's right by the sledding hill right?" Not knowing the sledding hell we couldn't confirm. With over 3 feet of snow in December we can confirm the sledding hill is just down the street.

Proper sledding options made me check our sleds. Mazie had a little kid sled as well as a slightly bigger plastic one. However, none of her sleds would fit both of us, and they weren't steerable. In short, they didn't live up at all to my memories as a kid of a sled.

I started to look for new sleds and that is when I realized the sorry state of sleds. Let me be clear, a flexible slab of plastic 0.5mm thick is no more a sled than a sitting on a garbage bag. All the sleds I could find locally were total junk made to be cheap, fit by the thousand in a shipping container and had nothing to do with sledding. Steering? Nope. Drag reduction? Nope. Total and complete garbage.

So I went online and there I found the small niche of real sleds still alive and kicking. I just placed an order for a Mountain Boy Sledworks kit, two in fact. I'm likely crazy, but I wanted a toboggan as well as a maneuverable rocket. And yes, I got the sled pads too!

I was going to order direct but Amazon had great prices and the shipping was totally free. I've got the [Mountain Boy Sledworks Ultimate Flyer 52"](http://www.amazon.com/dp/B000OVC1B6/) as well as the [Mountain Boy Sledworks 6' Mountain Boggan](http://www.amazon.com/dp/B001JJBNVQ/).

I'm excited to get them and take a few runs down the hill. I'll report back on the results.