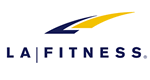 Tammy and I have had a gym membership for a while. Let's just be nice and say that the membership was "under-leveraged". We got pretty excited around a year ago when some construction started fairly close to our house and we found out it was going to be a new LA Fitness location. The location is much closer to our house than our previous options, and we knew that LA Fitness was cheaper as well.
This weekend we stopped in and took a tour. We were pretty impressed. They don't attempt to have a "spa experience". There is no water wall in the entry way. In fact, there isn't even a towel service. But, the equipment is really great and the space is nice. Not too tight; not too distracting.
We signed up right away cutting time and distance to get the gym by 70%, and cutting our monthly fee by 70%. Win, win! We are both looking forward to getting some good use out of the membership.