I have spent most of my life really clueless about clothing and style. I'm fine protecting myself from the elements, but when it comes to dressing with intent, or for a specific event, I have never had any confidence. Sure I can figure out a suit, but go to a networking event over cocktails and I would panic. I'd always considered it lucky that I'm a technologist, as we are usually given a pass on looking all that presentable. I would often exclaim in frustration "I have nothing to wear!" when going to an event. In fact I didn't have the right things to wear, but I also had no idea what I should wear!
Tammy decided that I needed some help and signed me up for a full package with Nancy Dilts for a wardrobe consultation!
When Tammy told me that I was going to spend 12 hours with a stylist I was nervous. This would involve three hours trying on clothes and filtering through my closet. Three hours of that? We would also go on at least two shopping sessions for three hours each. Wow! That was just a lot of time doing clothes things which I frankly dreaded.
Into the unknown I would go, following the lead of my new coach!
Personal Style
Before we filtered through clothes or went shopping, I first needed to get a game plan. Nancy and I had set a time to spend three hours in my closet, but she wanted me to answer a few questions first. So I opened the document she sent and stared at the question.
If you were to name your style, what would it be?
I sat for several minutes looking at that question. "None" is the only thing that came to mind. If there was something that was less than none, I would have put that in. I finally answered "Have no style. Plaid. Whatever fits."
So that is where we were starting from.
There were two words that I put down on the worksheet that Nancy gave me that drew her attention: Tech Forward. That was what we decided to build my personal style around. I've been into technology my entire life and a forward looking style fits my personality, career, and lifestyle.
Nancy was able to take that Tech Forward statement and turn it into an entire collection of ideas to work with.
Clothes and Shoes
The wardrobe itself went through two phases: Removal and Acquisition.
For removal we went through my closet and frankly got rid of a lot of stuff that was, to my surprise, too big for me as well as just looked outdated. I had a bunch of shirts that Nancy was correctly able to identify as over 15 years old and out of style entirely. I tried on hundreds of things and she highlighted how poor the fits were on many items, so that I could learn what a good fit was. I didn't keep close count, but we may have filtered as much as 70% of my wardrobe out.
It felt great. It felt like progress and the act of filtering was teaching me why things work or do not work specifically for me.
Shopping was the thing I was most worried about. I'm a big guy and not a lot of things fit me. When I did find things that fit me, they certainly didn't seem stylish. However, we went off to DXL and it was like I found the land of options! There were a ton of looks, things with unique color and style, and most everything I could find had options that fit well.
We ended up shopping for a total of six hours in two sessions and trying on a wild number of things. I'm still not a huge fan of trying on things, but part of my frustration was a belief that nothing would fit so it was a lot of trying things on for no benefit. When I was as a place where things would fit, it became more fun to try.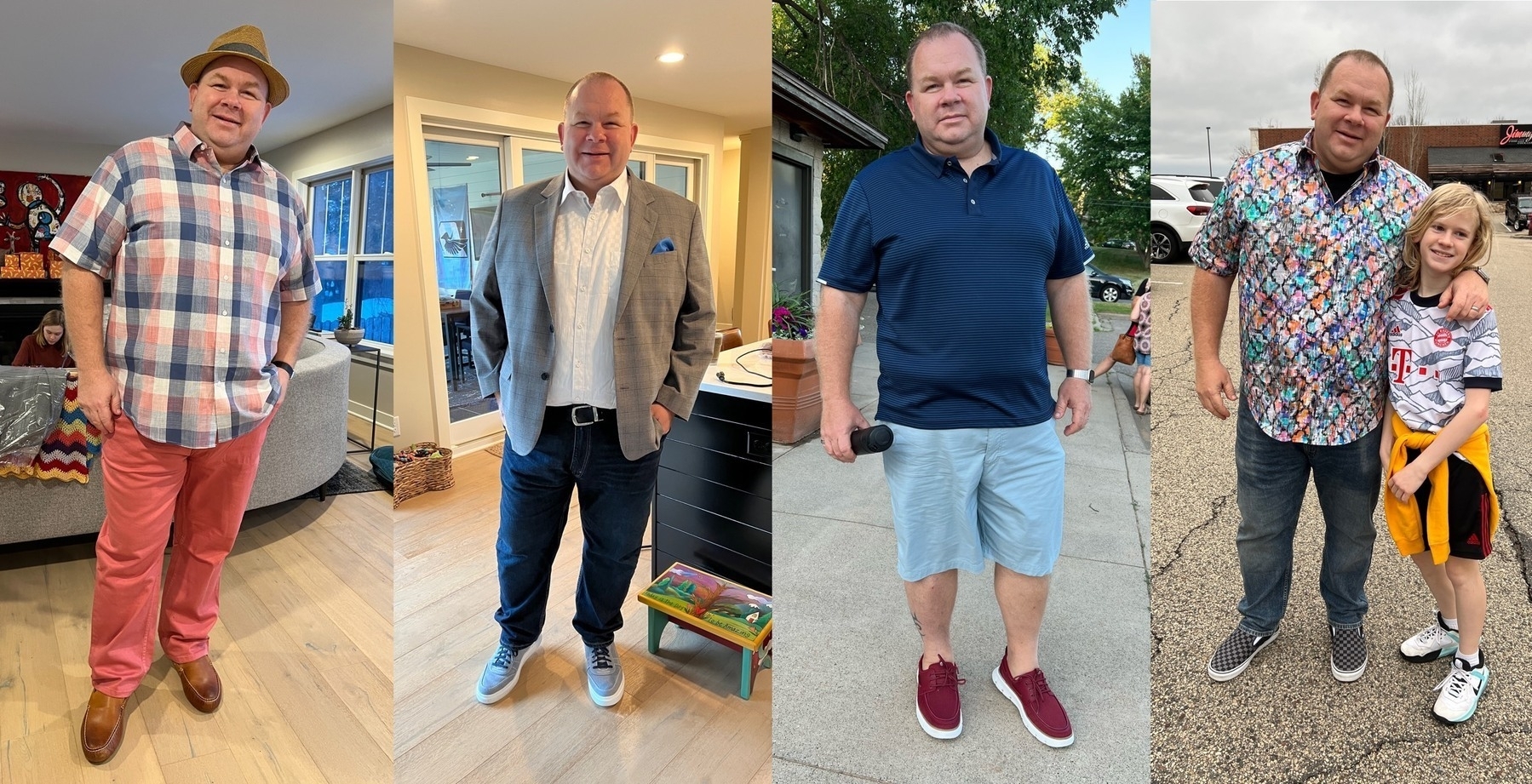 Learnings
Nancy imparted some wisdom for me to use each day. Here are three highlights.
Three Things
You have to wear two things, it is the law. You need some sort of bottom, and you need some sort of top. Always pull in a third thing, and use that third item to indicate intentionality and your style. This could be a jacket or a cardigan, or as simple as a pop of color on your undershirt or the choice of of a watchband that coordinates with your outfit. Having a third thing shows that you were intentional about your choices and allows you to bring your style forward.
Shoes
Shoes can either dress up or dress down an entire outfit. Casual jeans with a concert t-shirt and a cardigan all get an upgrade with a pair of Cole Haan ØriginalGrand Chukka Boot (my new favorite shoes). And similarly a dress shirt with dark wash jeans can get more casual with a pair of Vans Checkerboard Slip Ons.
Order of operations
I never learned a method for getting dressed each morning, so I mostly would just make choices in the order that you put things on. I would never try to achieve any other goal without first knowing what I had in mind. I've had to reverse my order of operation and figure out what the end outfit is, and then work backwards to finding the right items. Most surprising to me is that sometimes the shoes decide the outfit!
***
I've worked with a handful of different coaches of the years. I've had a couple of personal trainers. I've worked with an executive coach. And now I can add a style coach to that list. Of all the coaching engagements that I've done, a Style Coach had the highest return-on-investment of any of them.
The reason for that is pretty simple. Learning how to better dress yourself and making improvements to your wardrobe are not hard things to execute if you give it priority and have a framework to evaluate it with. Much easier than working out every day for months, or making deep changes to how you handle conflict or public speaking.
Working with Nancy as a Style Coach helped me in all areas of life though. It gave me confidence in how I was showing up and that results in me being happier, and being more effective in what I do.
Plus I no longer stand at my closet and exclaim "I have nothing to wear!"