∞
Brilliant: Swivel Tree Stand
Last year I decided I had enough of our old tree stand and got rid of it. We decided to pick up our Christmas tree after Thanksgiving but I needed to get a new tree stand.
We made a quick stop at Settergren's Ace Hardware and I asked the guys there what they recommended. The guy I was talking to said he loved this Swivel Tree Stand. I decided to get it. It wasn't the cheapest, but it looked really nice and easy.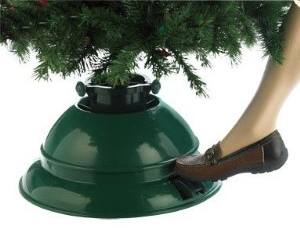 We went to Wagner's and got a tree, and then headed home to get it in the stand. After putting the tree up I won't use one of the old tree stands ever again. This thing was amazing. You put part of the base on outside, with the tree in an easy place to put part of the base on. No laying on the floor trying to get everything put in place. Simple, easy.
You then walk it inside, set it in the stand, press the swivel lever down with your foot. At this point the tree moves anyway you want it. Get it perfect, let the lever release and your done! Wow. Great!