A couple of days ago it was my birthday! Have I mentioned how amazing my wife is? Anyway, it was my birthday, or should I say the week of my birthday. The festivities have continued all the way to today.
We have decided in our household that birthdays are vacation days so I take my birthday, Tammy's and Mazie's off of work and we spend the day as a family. Tammy this year just made the most amazing birthday I could ask for.
It wasn't just the gifts, which were great. It wasn't just the plans and events, which were awesome. Not even the "Dad-oriented" schedule, which was very nice. To be sure, she spoils me greatly. Thanks Dear! You rock!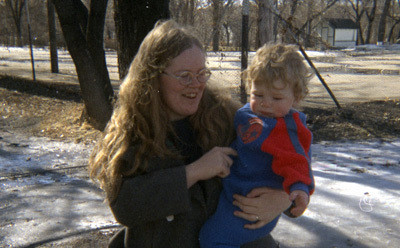 My mother and I in the park about 34 years ago.
I've learned to appreciate birthdays more since meeting my wife. I've always celebrated them, but we certainly do more now. I continue to prove out my theory of fractional life. The years just go by faster and faster.
This years birthday was really special because of all the great things Tammy put together, but also because Mazie was a lot of fun. She knows what presents are now, and she had a great time ripping into "daddy present!" and playing with stuff. Amongst other things I got a model train that I hope she likes to watch now, and play with as she gets older.
I'm another year older, and I'm gradually starting to feel like things could slow down now. I love where I'm at right now and it would be great to just pause here for a while. Unfortunately, it doesn't work that way. Plus, I'm positive that this year is going to be great.